Kuwait Culture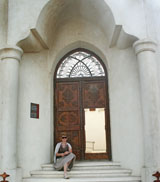 The influence of Islamic and Arab culture on its architecture, music, attire, cuisine and lifestyle is prominent as well. The most distinctive characteristic of local Kuwaiti culture are the dewaniya's, a large reception room used for social gatherings attended mostly by close family members. While, unlike neighboring Saudi Arabia, the Islamic dress code is not compulsory, many of the older Kuwaiti men prefer wearing dish dasha, an ankle-length white shirt woven from wool or cotton while the minority of women wear abaya, black over-garment covering most parts of the body. This attire is particularly well-suited for Kuwait's hot and dry climate. Western-style clothing is also fairly popular, especially among Kuwait's youth.
Seafood has been the mainstay of the Kuwaiti diet for centuries. The Arabs in the Persian Gulf region played a crucial role in the spice trade between India and Europe and spices have remained an important ingredient of Kuwaiti cuisine. Traditional Kuwaiti cuisine includes Machboos or Kabsa which borrows heavily from South Asian cuisine. As in other Persian Gulf states, Kuwait takes part in the tradition of Qarqe'an during the month of Ramadan.
Before the discovery of oil, pearling formed a crucial part of Kuwait's economy. Pearl fishery, known as ghaus, suffered decline after the advent of Japanese pearl farming. However, Kuwait's pearl industry laid the foundation of its rich maritime history. Dhows, large wooden ships made from teak wood imported from India, became an indistinct part of Kuwait's maritime fleet and dhow building is still practiced in this Persian Gulf state.
Kuwait's architecture is largely inspired by Islamic architecture. The most prominent landmark in country, the Kuwait Towers, were designed by Swedish architect Sune Lindström and are a unique blend of traditional minaret and modern architectural designs. The National Assembly of Kuwait, another famous landmark building, was designed by the famous Danish architect Jørn Utzon and completed in 1972.
Sawt is the most prominent style of Kuwaiti music and is performed by 'ud/oud (plucked lute) and mirwas (a drum), with a violin later supplementing the arrangement. The Bedouins are known for an instrument called the rubabah, while the use of oud, tanbarah (string instrument) and habban (bagpipe) are also widespread.